An exciting day for Grand Pré Wines.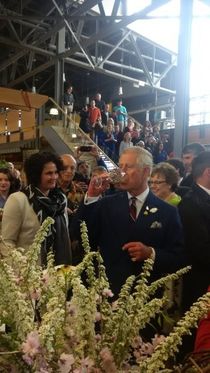 His Royal Highness Prince Charles, Prince of Wales, and his wife Camilla, Duchess of Cornwall, were in Halifax as part of the Royal Visit 2014. Not only was the future King in our hometown, but we were lucky enough to be the only winery chosen to have our wine tasted by the prince himself.

Cacilia, our wine shop manager, had the chance to briefly meet him and serve him our famous Tidal Bay, which he of course loved and referred to as "delicious!" It was a very exciting moment. Prince Charles was funny and personable, and on a day that seemed to be go, go, go, he never seemed rushed and took his time to speak to everyone he could.

This will certainly be a day to remember at Domaine de Grand Pré!